So each year our guild,
Veritas
, throws a party in
Raven Hill,

Duskwood
where the whole server is invited and we have a costume contest and ghost stories and just general role playing. We held this year's last night, and the turn out was incredible.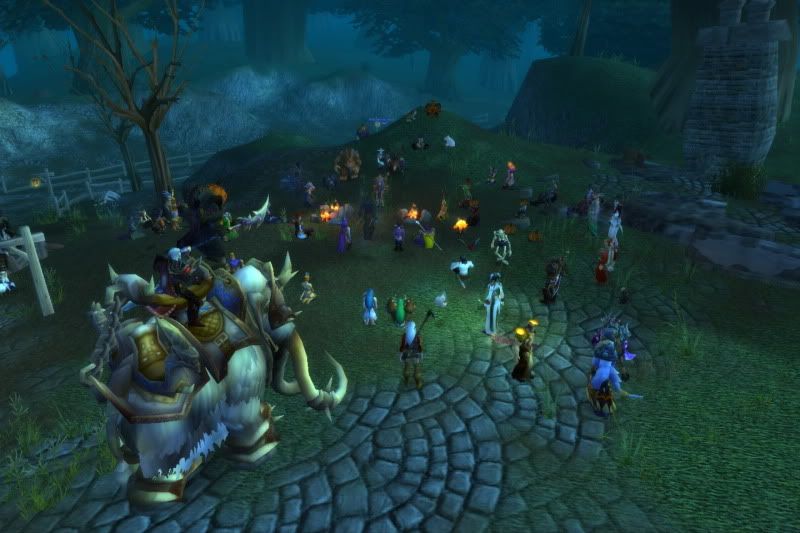 Lal
and I came dressed as
Malfurion
Stormrage
and
Tyrande
Whisperwind
. Yeah, I know, Sal is a druid and
Malfurion
is an
Archdruid
so it's not like I had to stretch it much. I found as many pieces of armor that looked like the in game
Malfurion
as I could, including a
helm
that had antlers. Then throughout the night I kept falling asleep at random moments, then muttering, "I'm awake, I'm awake," as I got up. It was a lot of fun.
Lal
looked just like
Tyrande
in her gorgeous
Mooncloth

Robe
and riding a white tiger like
Tyrande
does in Mt.
Hyjal
. We each got our hair changed to match the respective characters too. I say we looked the part rather well. We won for best couple's costume, but to be fair, there was only one other couple competing as such, and they had a hilarious Pirate vs. Ninja routine.
There were lots of other good costume there, from
Veritas
and from other guilds. At the end of this post is a link to a slide show of the
Veritas
costumes I screen
shotted
. We even had some horde visitors, a Blood Elf "Druid" and a
Tauren
, who helped us to do a skit in which a person dressed as High Inquisitor
Whitemane
raised up her champion. (The
Tauren
helped kill the champion so
Whitemane
could
rez
her.)
Someone came dressed as
Cairne
Bloodhoof
, wearing a
Tauren
mask. He and I had some fun role play interaction. He was trying to keep me awake, and I was having a hard time of it. It was a pretty fun event, and a nice break from raiding, although I'm looking forward to taking not one, but two teams into Trial of the Crusader on Sunday. We've got a great group of raiders now, and I expect to have a fun time and finish the raid with each team.
Enjoy this
slide show
, and Happy Halloween!